Rhaetian Railway G 3/4 No. 11 "Heidi" back in Service after an extensive Overhaul
On Friday, July 11, 2014 the 2-6-0 tank engine G 3/4 No.11 successfully moved under its own steam following an extensive overhaul and modernization. This metre gauge locomotive was built in 1902 by the Swiss Locomotive & Machine Works SLM in Winterthur. The rebuilding and modernization was a joint venture between the Swiss society of volonteers "Club 1889" and DLM Ltd. DLM delivered a new boiler including a superheater and the well known environmentally friendly light oil firing system, new pistons and piston rods, new valves and valve rods and an electric preheating device. This particular steam locomotive is named "Heidi" since it appeared in the namesake Swiss film.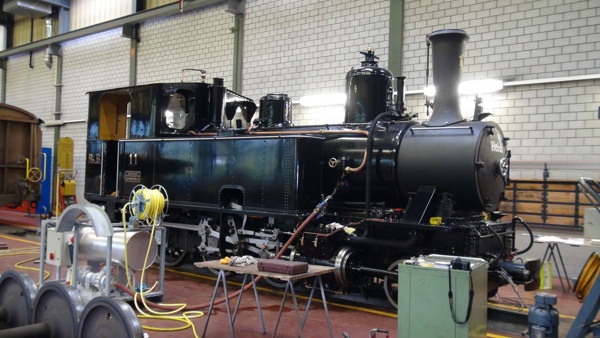 The electric preheating device can be seen in the lower left corner of the picture. It allows unattended, emmissionfree heating of the boiler overnight, up to a boiler pressure of 10 bar. Picture: Roger Waller
..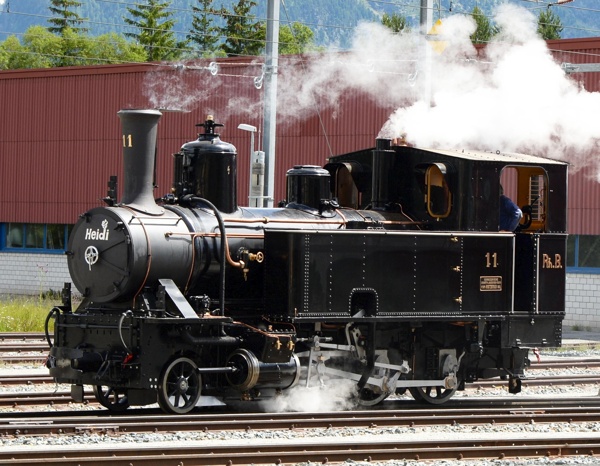 In front of the shed in Samedan, "Heidi" successfully moves under its own steam. Picture: Christian Ticar