How the Dampflokomotiv- und Maschinenfabrik DLM AG was founded - a short company portrait
DLM AG has its origins in the former Swiss Locomotive & Machine Works SLM in Winterthur. When SLM's engineering division was sold to Adtranz in 1998 and the workshop was renamed Sulzer Winpro, the end of the traditional SLM was imminent. The SLM steam team, led by Dipl. Ing. ETH Roger Waller, decided on a management buyout (MBO) and founded Dampflokomotiv- und Maschinenfabrik DLM AG in mid-2000 with a share capital of CHF 650,000. Of course, we actually wanted to continue the world-famous name SLM, which Sulzer did not allow. As a condition for the MBO, Sulzer demanded that we join a company. A suitable partner was found in Hug Engineering, a company specialising in exhaust gas purification systems. This resulted in the initial location of DLM in Weisslingen. At the same time as the company was founded, the first substantial order was registered, the overhaul and gentle modernisation of the HG 2/3 No. 7 "Breithorn" of the former Brig-Visp-Zermatt Railway. A small workshop was rented in Winterthur for this work. Later both companies moved to Räterschen (Elsau). In July 2006 the time they spent together with Hug Engineering ended. Because exhaust gas purification systems were now mandatory, the sale of soot filters and catalytic converters boomed. The steam team acquired the shares of Hug Engineering and moved to Winterthur. In Schaffhausen, it was also possible to rent the locomotive shed and the carriage works, which were no longer needed by the Swiss Federal Railways SBB.
In mid 2020, DLM celebrated its 20th anniversary. The planned jubilee steam journey with the 52 8055 to Chur and on with the steam locomotive "Heidi" fell victim to the corona virus.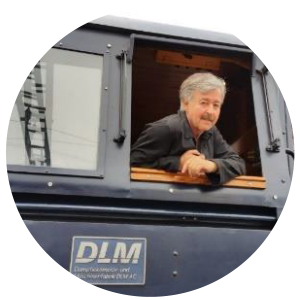 Dipl. Masch.-Ing. ETH Roger Waller
an engineerS PASSION FOR STEAM LOCOMOTIVES BECOMES A REALITY
New steam locomotives, just like other vehicles, are calculated by a team of engineers, designed by a team of designers and draughtsmen and then built by a workshop team. Nevertheless, someone is needed to manage and coordinate this work.
When Roger Waller suggested to the SLM in 1984, after his return from South Africa, that they build new steam locomotives, he was supported by a few but ridiculed by many. "Are you serious?" was among the more diplomatic comments. Steam technology was written off as obsolete and outdated. How it came to be that new, modern steam locomotives were created nevertheless can be seen in the following two articles:
1) Roger Waller, Fachmann für moderne Dampftraktion.
Artikel von Christian Zellweger, Auszug aus dem Buch: "Das Erbe des Dampfzeitalters, A 3/5, Tigerli und Elefant"
ISBN 3-909111-09-2, AS Verlag & Buchkonzept AG, Zürich 2004