Various techniques and processes used by us in connection with steam engines are presented here.
• Tuning of valve gears • Engine indication and interpretation of indicator diagrams • Draught ejectors: problems with insufficient steam production • Improvement of poor steam flow conditions • Thermodynamic cycles • Modernisation of existing locomotives • General instructions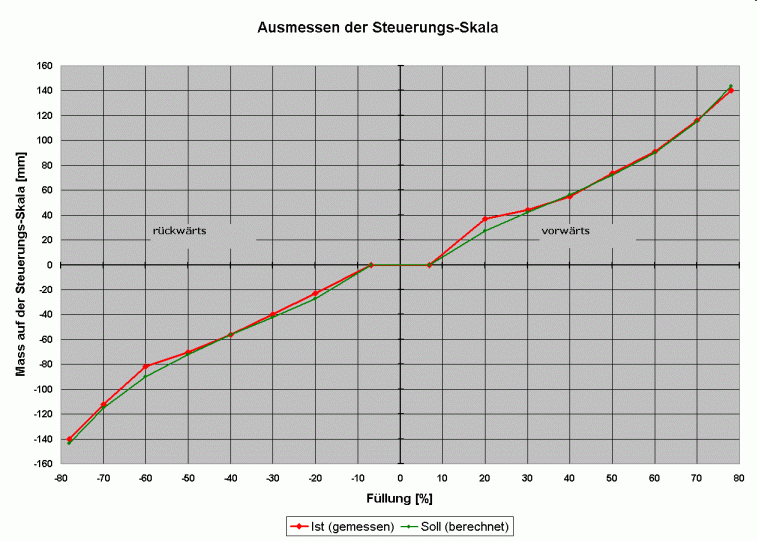 Measured and calculated positions on the filling scale for the entire filling range
Old steam locomotives were also revised and technically improved. The "Borkum" locomotive of the Borkumer Kleinbahn was fitted with a new welded boiler with light oil firing. The 52 8055 was heavily modernized and shows that modern steam technology can also be applied to larger steam locomotives. The steam locomotive "Heidi" of the Rhaetian Railway and the locomotive "Breithorn" of the Brig-Visp-Zermatt Railway received new boilers with superheaters and light oil firing systems. The locomotive 14 A of the Australian Puffing Billy Railway was converted to light oil firing.
Please see our photo gallery for further pictures
RAIL VEHICLES FOR RACK OPERATION
Here we present various techniques and procedures we use in connection with steam engines. Systematic measurement of the control components and the slides or valves allows the detection and localisation of errors in the control system. By eliminating these faults, the steam distribution and thus the running behaviour and the efficiency of the steam engine is improved.  
Stability and safety against derailment, also for vehicles with special drive train arrangements and running gears
Geometrical matching of rack and pinion
Brakes and brake systems
For various rack railways we provide the safety certificate required by the Federal Office of Transportation (BAV) for new lines
Smith diagram showing the stresses in the rack web under traction for different temperatures, curves and pinions
Using the Finite Element Method (FEM), we can analyse the stresses and deformations of your components with MSC-Nastran. For example, thermal stresses in boiler components, stress peaks at the foot of a gear wheel or deformations of a locomotive frame can be calculated. With the help of the information from the analyses, we optimise your components specifically and efficiently.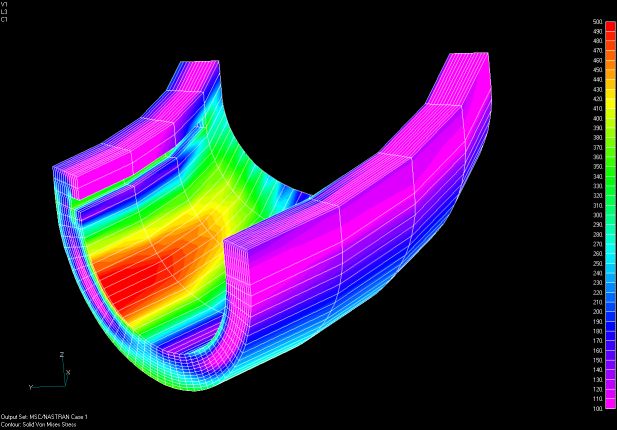 Stresses in the bottom ring of a locomotive boiler caused by operating pressure and temperature differences.
Vibrations are an issue in almost all areas of mechanical engineering. With the help of modern simulation tools we are able to solve even complex vibration systems. In addition to general vibration problems, we deal specifically with the following topics:
Vibrations in the drive of traction units
Gas oscillations on the flue gas side in locomotive boilers
Natural angular frequency of self generated gas oscillations in a locomotive boiler, as a function of the combustion parameters
Parts and assemblies for rail vehicles and general application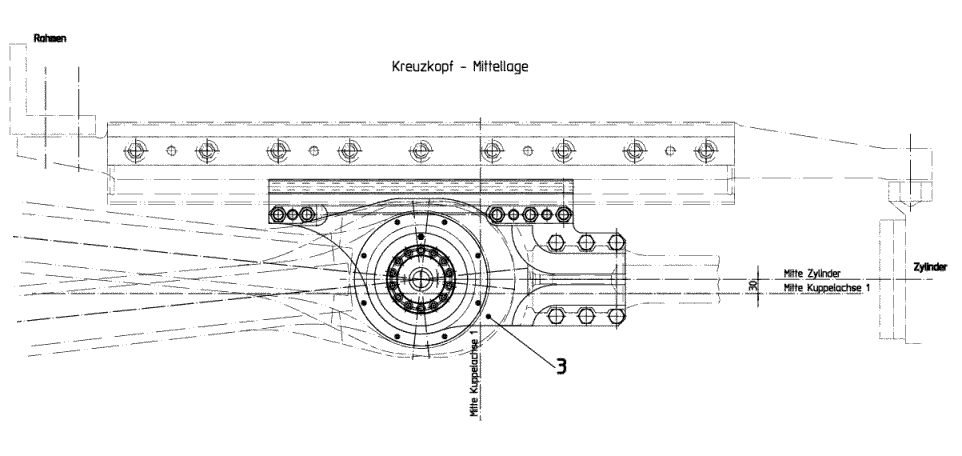 Construction: Lightweight crosshead with roller bearing for steam locomotive 52 8055
RUNNING BEHAVIOUR OF RAIL VEHICLES
Curving behaviour regarding tracking geometry, wheel-rail forces, wheel and rail wear and safety against wheel climb derailment for:
Wichtige Bestandteile dieser Untersuchungen stellen auch die Kräftesituation am Rahmen, das Verschleissverhalten von Spurkranz und Lauffläche sowie die Entgleisungssicherheit dar.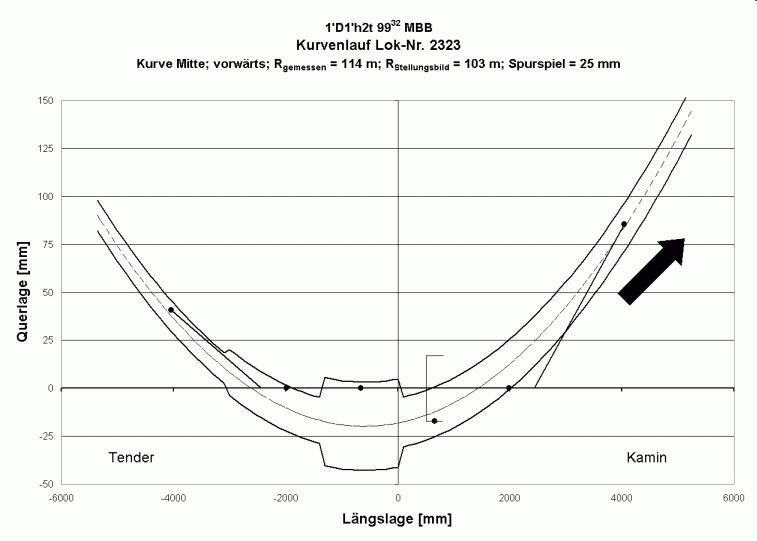 Positioning diagram of the rigid frame narrow gauge locomotive (class 99.32) of the Mecklenburgische Bäderbahn Molli (Bad Doberan - Kühlungsborn West) in a 114m arch
We deal with:
Stiff framed locomotives, also with special guiding systems such as Beugniot levers, Krauss Helmholtz bogies etc.
Four wheeled vehicles, also with long wheelbase and in tight curves
Bogies with radial wheel sets, also under the action of traction and braking forces
Behaviour of vehicles in trains, especially at push-and-pull operation