25 YEARS OF MODERN STEAM TRACTION
On June 17, 1992 the all-new designed rack tank steam locomotive  H 2/3 No. 12 had been inaugurated on Planalp, the middle station of the Brienz-Rothorn Railway, see photo above taken by Roger Waller. On his initiative the Swiss Locomotive-& Machine Works SLM in Winterthur built steam locomotives again, 40 years after delivery of the "last" SLM steam locoomotives for the Nigiri Railway in India. The new rack tanks have been built with the latest technology like economic one man operation and ultraclean light fuel oil firing. The Brienz-Rothorn Railway commerorates her 125 year anniversary. The Brienz-Rothorn Railway is worldwide unique by operating three generations of steam locomotives:
Steam Locomotives No. 1 to 5 built 1891/92
Steam Locomotives No. 6 and 7 built 1933/36
Steam Locomotives No. 12, 14 to 16 built 1992/96
The new, modern steam locomotives trasnsport the majority of passengers, but in the high season one or two old steam locomotives are in service as well.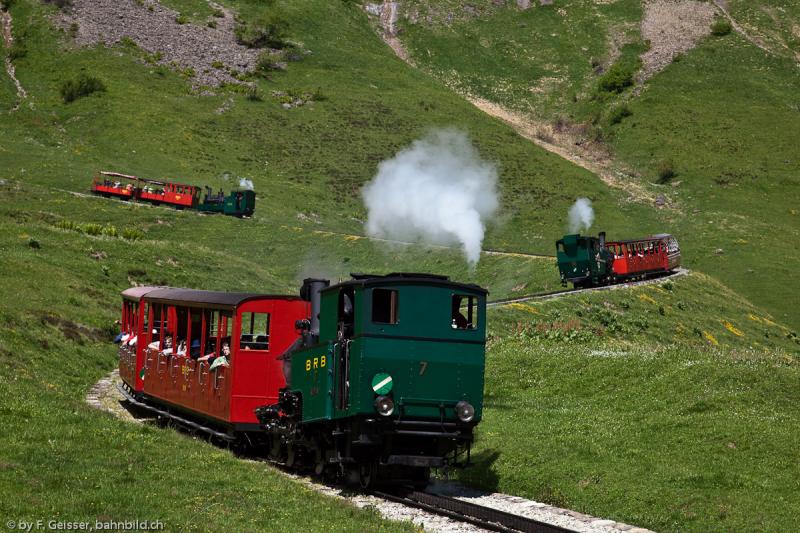 Skill and luck are needed to get a master shot like this, showing all three generations of steam locomotives on the Brienz-Rothorn Railway. Photo: Franz Geisser